Well, not too much but here's what I did get done. All of these are different challenges going on at one of my favorite places to play Pinky's Board--Just Scrappin'!! Cristal and all the gals & Stephan are fabulous!! It's always fun to play there. And even more wonderful is that Cristal and fellow Just Scrappin gal Cherrie both recently made the design team for Treasured Scrapping. Congrats to both of them and I cannot wait to see what they do!! But, now off to see what I've done!
First here is the monthly sketch challenge for Just Scrappin....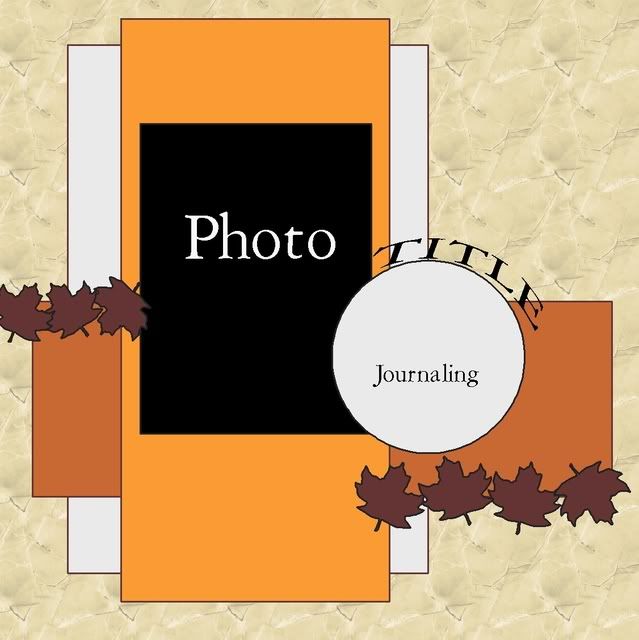 And here's my creation....pretty much just stickin to the sketch on this one with one small twist my big leaf is my journaling box!! All of my papers are from DCWV Fall Stack and DCWV Fall cardstock stack. What can I say I love DCWV papers!! Such a wonderful variety and the all mix and match so well!!

Next one here is the Monthly Contest. All we had to do was create any kind of circle layout. I used my threading water punch to go around the edge of the entire circle..it was a pain and I wasn't sure if I was even going to be able to make it work, but it did...so, when I get a chance I will post a little tutorial on here how I did it! I actually amazed myself!!


This one here was our November Challenge. Our Challenge was to create a sign. Now, most of the ladies on the board created their own scrap room sign and are very awesome. But me. I was thinking how can I get a Christmas present made with this...so this is actually going to be for boys school teachers. I am going to make two more for Jaedon's pre-school teachers. I thought these were the perfect little signs that they can hang in their classroom or at home..which ever they like!
And last here is the one hour sketch that I just completed tonight at Just Scrappin... I am so loving the 1 -hour LO contest--they are just too much fun and it's great to see everyone online together and how everyone's minds process the same sketch in 1 hour time!! So here's the sketch...
And here's my LO. It's not really a great pic, but that's the best I could do with only really doing it in 40 minutes because we were watching a movie with the kids and I had to hurry up and get them to bed!
Well thanks for checking in...hope everyone is ready to eat some turkey...just 4 more days!!